Maynard Oswald, Howard Seneften and Lawrence Shomaker started the first hardware store in Hartville in 1947. Located at 236 West Maple Street, it began as a general farm store and sold Oliver Farm equipment, a full line of hardware and was reputed to be able to fix anything. They also employed Eli Miller, a blacksmith, to shoe horses in a separate building on the back of the lot. In 1950, Dennis Steffy built a new building at 616 West Maple Street, and the business moved there. Along with the move and expansion of the general store, more stockholders were taken in and the business was operated by the stockholders until 1963 when the partnership dissolved and the business and inventory was put up for auction.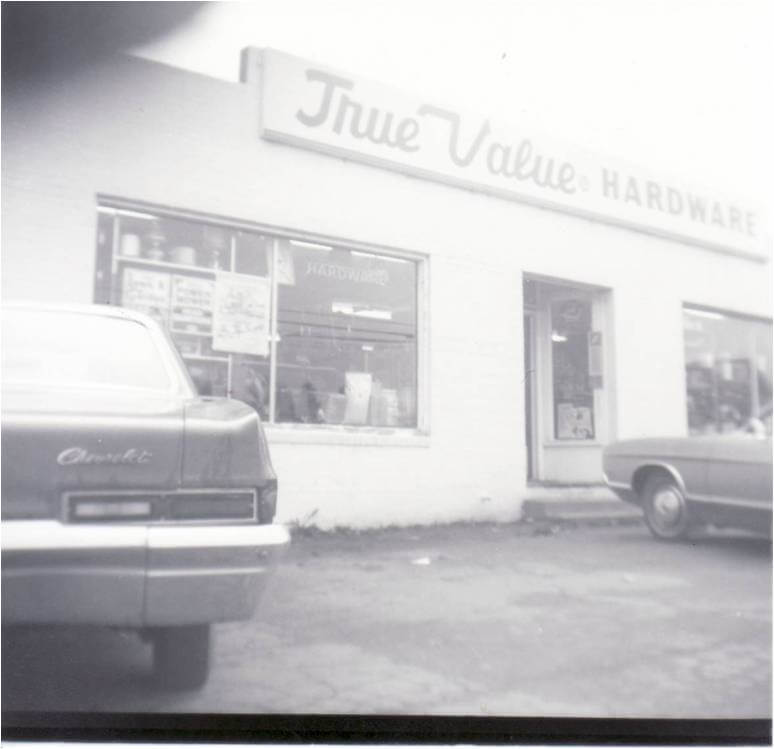 Ted Henry Sr., father of Channel 5 news anchor, Ted Henry Jr., had been running a hardware store called Lincoln Hardware located at 2406 West Tusc in Canton, and was looking for a new location for his store. After looking at a few possible locations in Minerva and Willard, he saw that there was a hardware store in Hartville up for auction. Henry went to check out the building along with his only full time employee Bill Reno, and they decided that it had adequate space and parking for the store. He bought the inventory at auction and worked out a lease agreement with Dennis Steffy with the option to buy after a few years and he and Bill Reno started the tedious task of moving their inventory the 15 miles from Canton to Hartville. It took a total of 3 months before everything had been moved and straightened up for Henry to open up the new Cotter & Company hardware store he had decided to call Lake V&S (V&S stood for Value and Service).
Ted Henry Sr. ran the store until 1972 when he wanted to retire. Henry approached Howard Miller Sr., a local businessman who was shopping at the V&S store, and asked if he would be interested in buying the store from him. He had to know the next day if Howard wanted to buy it, because there was another party interested. Howard went home and asked his 19-year-old son Howard Jr. if he was interested in running a hardware store.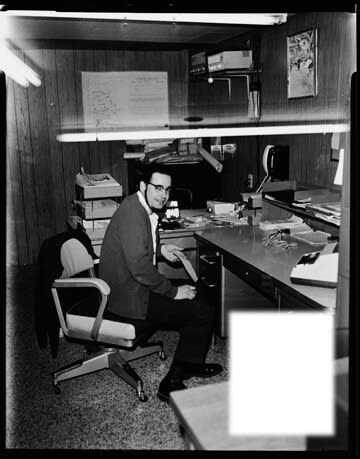 Howard was planning to be married in July to Marsha Combs, so he headed over to her house to discuss the situation with her. It was decided that Howard Jr. would run the store. The next day, Howard Sr. told Ted Henry that he and his friend Jerome "Whitey" Graber, would buy the store and inventory from him and that his son would manage it. At the time, there was another store called "Hartville Hardware," and they felt that calling the store "Hartville True Value" would be too confusing, so they changed the name of the store to "True Value Hardware." Ted Henry stayed on another month to train Howard Jr. and Bill Reno who had been working in the hardware business for over 25 years, continued to work for Howard Sr. Reno was a great teacher and helped Howard Jr. to understand the hardware business. Howard Jr.'s brother Wayne helped out at the store after school and Rich Wittmer was also hired to work after school. By 1974 they no longer had enough room in the building to hold all of the stock and it was decided that a new building was needed to meet the demands of the steadily expanding business. After looking at a few options, Howard Sr. and Howard Jr. decided to build on a four-acre plot on West Maple Street. They were the first business to go into the new shopping area being developed by Ellis Erb. At this time, "Whitey" decided to pull out of the hardware business, so Howard Sr. left the V&S real estate with "Whitey" and took the business and inventory to it's current location at 940 West Maple Street.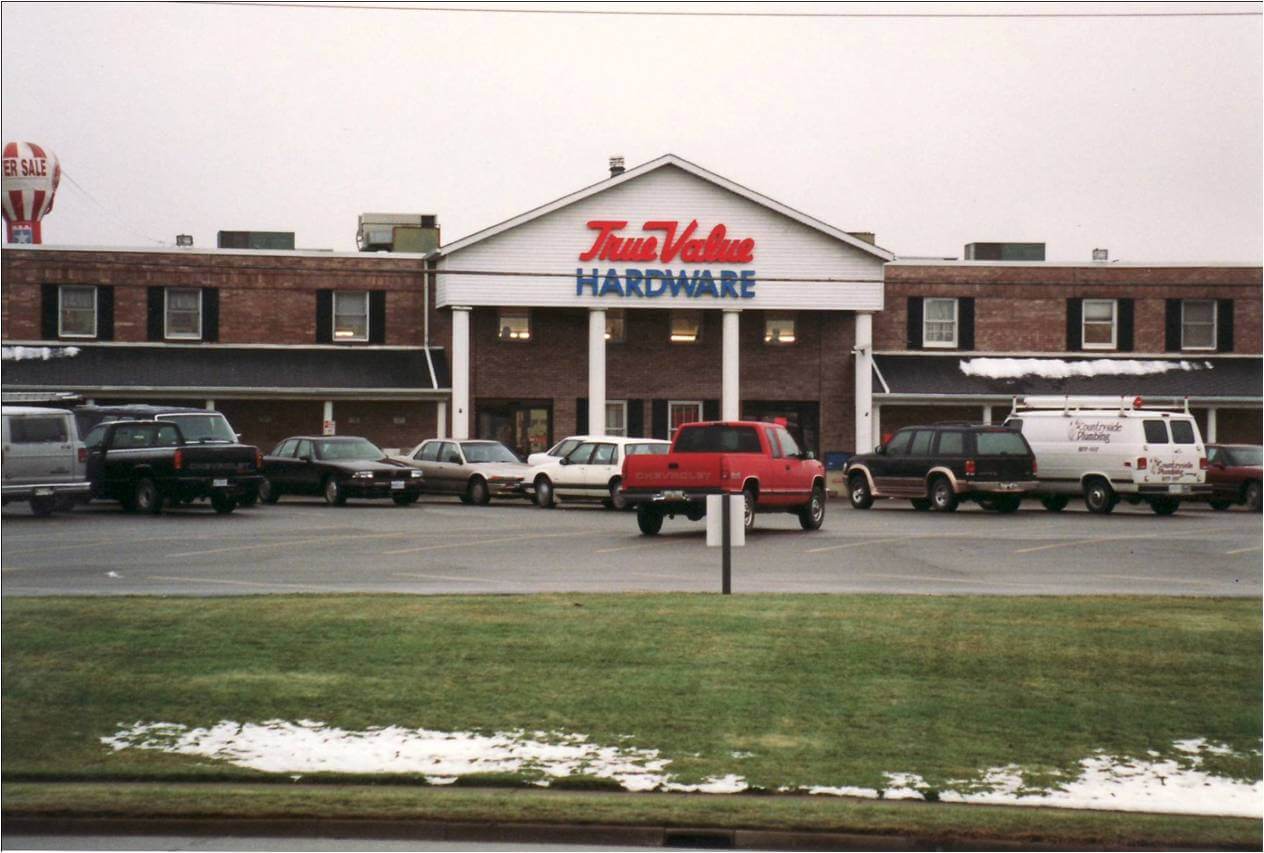 Ground breaking for the new True Value Hardware store took place in August 1974. There was a recession that year, and Howard Sr. paid any contractors willing to work an hourly wage, and with much hard work, the 22,500 square foot building was completed by December of that same year. On December 24, 1974, anyone in the community with a pickup, a horse and wagon, or a flat bed showed up to help with the move. Inventory and merchandise was handed from person to person to load up at the old store and a crew of people were waiting to unload the same way at the new site. With all the help from the community, everything was moved in one day. Howard Sr. treated everyone who helped out to a free lunch at his restaurant then known as the Country Kitchen. Over the next few months, a few retired men in the community volunteered to help stock shelves and organize inventory and soon business was running smoothly once again. At the time of the move there were six people working at the store-Martha Beachy, the stores first cashier, Harold Miller, Bill Reno, Rich Wittmer, Wayne Miller, and Howard Jr.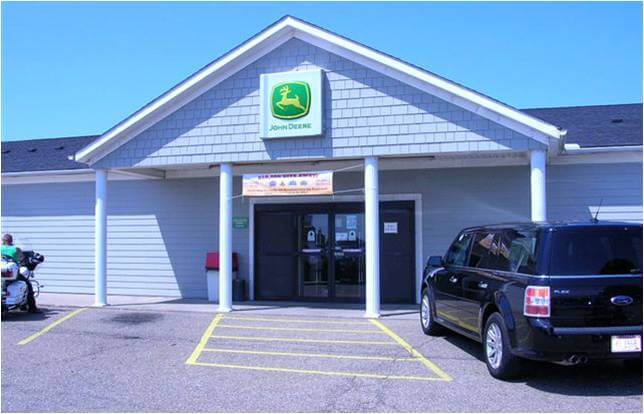 When they moved into the new building in 1974, Howard Jr. was sure they would never need more space, but by 1983, old semi trailers were being used to store inventory. In the spring of 1983, Roman Wager was hired to add a 9,000 square-foot pole barn to the rear of the store making the total square-footage 31,500. This new space was used as a warehouse and the 3,750 square-feet previously used as a warehouse was converted into sales area. In the fall of 1986, the John Deere Company and Roy Garmen approached Howard Jr. about the possibility of taking over the John Deere dealership that Wise Hardware in Greentown was giving up. To do this, a separate building dedicated to power equipment would be needed to qualify. It was decided that the partnership of John Deere and True Value would be a good move, so another 6,000 square-feet were added to the east of the building. In March of 1987, the John Deere department was moved in and it has been one of the leading John Deere Dealers in Ohio ever since.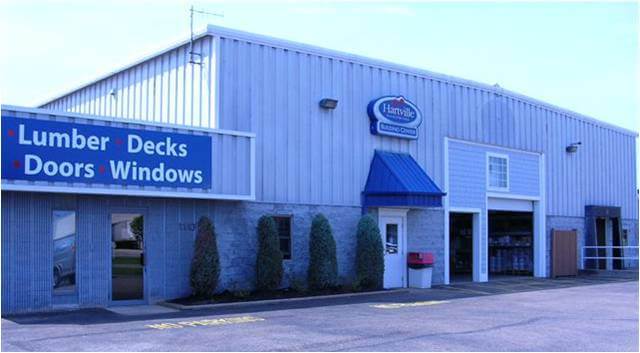 In 1991, the lumber business on Duquette Avenue, came available and Hartville True Value bought it along with the 20,000 square foot building owned and operated by Ray Hall. Ray Hall stayed on to run the business and soon it became a large part of the sales volume. In 1993, it was decided to bring the lumber business to the West Maple location and the land west of the building was bought from Thelma Young and Triangle Mold and Machine for future expansion and for a right-of-way from Sunnyside Street. In the spring of 1993, the 38,000 square-foot addition had begun. 20,000 square feet of this space was used as a warehouse, freeing up the 9,000 square-feet previously used, to be made into a sales area. The remaining 18,000 square feet was then used for lumber sales and a special order holding area. In 1997, a 36x100-foot pole barn was added to house exterior-type products. In 1998, the 16,000 square-foot Scott Processing building located on the corner of Sunnyside and Milan directly behind the True Value Hardware building was purchased with the idea of moving the lumber sales and building supplies to the separate building and increasing warehouse space and the special order area. In February 1999, Hartville Building Center was opened complete with offices, a showroom and lumber and building supplies.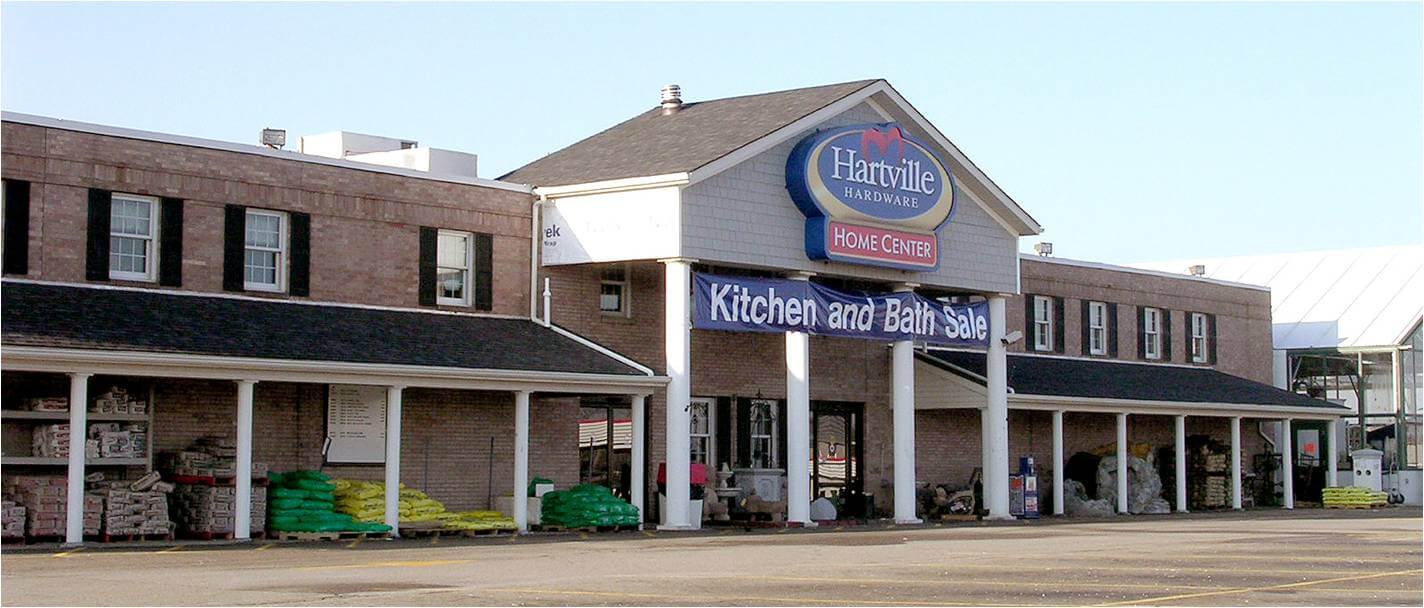 In 2000, Howard and Wayne started looking at other suppliers other than TruServe. With much discussion and research it was decided that after 29 years of using TruServe, it would benefit the operation of the hardware business to change to Do It Best, a hardware supplier based out of Indiana. In February 2002, the store changed its name to Hartville Hardware and became a Do It Best dealer.
Around that same time, the Miller family began to think about a new building to fit their ever-expanding store. Multiple additions made the old building more separated and restricting for the vision that they wanted, to become the most unique hardware store in Ohio. Around 2007, family members of the 3rd and 4th generation set out to get inspiration from the best retailers around the country. Meeting with many owners and designers got the wheels spinning and a plan was set.
November of 2010, ground was broken for the new home of the Hartville Hardware, joining sister companies, the Hartville Kitchen and Hartville Market Place and Flea Market, about a mile down the street. Sixteen months later, a brand new, 305,000 square foot building opened its doors.
At a little over 7 acres under roof, Hartville Hardware became the largest independent hardware store in the nation and is truly a one-of-a-kind experience. Beyond its size, there are unique features throughout the store including an 1850 square foot Idea House, a complete house built inside the store as the anchor for the Kitchen & Bath Design Center. At the rear of the Design Center is The Row House, a façade of architectural styles that have influenced building in northeast Ohio. Inside is a showroom of kitchens and bathrooms, showcasing many styles and the most current products from flooring to fixtures.
As a unique part of the Miller family's history, a section of the original livestock auction barn from the 1940s, salvaged from the old Hartville Kitchen, was repurposed as a sign on a feed mill façade that highlights the newly expanded Farm and Pet area.
Another unique feature of the store is the three-lane drive-thru lumber yard where customers can drive in, pick up their materials and pay, all under one roof.
Over the years, from its beginnings as a general farm store to Lake V&S, to True Value Hardware and currently as Hartville Hardware, this business has operated with the foundations of faith, integrity, and serving the community. Its knowledgeable salespeople and first-rate service along with its unique atmosphere make Hartville Hardware a rare shopping experience and sets it apart from the competition. Come visit Hartville Hardware and see for yourself what a difference family values and deep-rooted history and faith makes.